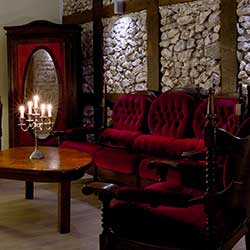 Rates for our fetish suites in Nordhausen
Romantic-, Dark-, Latex Suite and Fetish Clinc
Sunday to Friday per night: €180
Friday and Saturday per night: €210
Each additional person (max 4 per suite) €25
New Suite
Sunday to Friday per night: €210
Friday and Saturday per night: €240
Each additional person (max 4 per suite) €25
Prices are for 2 people per night and suite. Check-in time is at 6 pm and check-out is at 12 pm. If you would like to arrive earlier or leave later (arrivals from 2pm, departures by 2pm, 10 euros per additional hour) please contact us.

Services included
Refreshments: 1 bottle of water, coffee beans, nespresso and tea
Overnight guests will receive a bottle of sparkling wine
Towels, bed linen, shower gel and shampoo (bathrobes are provided in the Romantic Suite)
Free Wi-Fi
Free parking on the property
Utility costs
Final cleaning
General equipment in each suite
Underfloor heating
Bathroom with large open rain shower
Relaxation room with mini kitchen
IPod/IPhone/IPad stereo system with USB port (for connecting other devices such as MP3 players or other mobile phones etc.)
Selection of CDs
Flatscreen TV
Playroom
---
Moving between suites
Guests can move between suites in the Gutshof by prior arrangement which is an ideal opportunity to try out a different theme. With our 'switch' option you can spend the night in one suite and then move into another the next day.
---
Specials
New Year's Eve Special: from 30.12.18 - 02.01.2019 for 570 € instead of 610 € in the Fetish Clinic
---
Rates per hour (for two people)
First three hours: €110
Each additional hour +€10
Each additional guest +€15
The switch option can be booked for each suite on any day (subject to availability) from 1 pm to 4 pm (between rentals).  Switch bookings for the clinic are available from Monday to Thursday until 3 pm or after 3 pm. For last minute bookings (3 days before arrival) switch bookings are available for all suites on any day. Alternatively, switch bookings are available at any time as long as the price of the hourly booking and all additional options is at least equal to the overnight rate.
---
Rates for commercial use
Basic rate for 2 people +€100 per night and suite

All published material must credit the location:  For example: taken at The Gutshof fetish suites.


There is a surcharge of €15 per additional person (€25 for overnight stays)

Maximum of 6 people per suite – larger productions require multiple suite bookings
---
Optional extras
All prices for optional extras areper night (6 pm - 12 pm next day). Please let us know under customer requests on the booking form which day you would like reserve your chosen optional extras and we will be happy to confirm availability. See the Optional extras section for more detailed information and images.
Zusatzoptionen
Sybian – Sex machine for women €50 (including three different attachments)
Venus 2000 – Milking/masturbation machine for men with stand €50
StyleFetish fucking machine €30 (including two different sized dildos and a Magic Wand massager attachment)
Comfortable Blackstyle love/suspension swing €40
Heavy latex strait jacket €20
Vacuum bed with restraints €50
Latex sauna bag with arm restraints and straps €20
Inflatable rubber bed €50
Inflatable rubber mitts €10
Mask combination by Rubber's Finest with an inner mask (with eye and mouth openings), attachable breathing mask (3mm) and a smellbag €50
New: Rubber's Finest thickest inflatable Latex mask in the world €50
Various rubber and latex masks (some with tubing) €15 per mask
E-stim device with 8 electrodes €10
Erostek ET 312 – The height of e-stim €30
Reward and punishment – remote control e-stim device €20
Optional extras special: Book an extra three nights in a row and only pay for 2 nights

---
Gift vouchers

Show some love with our gift vouchers in an exclusive metal box (extra) or by email.

---
Booking information
Payment
When booking a deposit of 40% of the total price is due within one week. This can be transferred free of charge or paid for a fee of 2.50 € directly via PayPal. The rest is then due in cash when you arrive (EC payment is not possible). 
Arrival/keys
Check-in is at 6 pm. Please park in front of the building and we will meet you in the parking area. (Please do not ring at the main entrance. This is exclusively the entrance to our Romantic Suite). After a brief tour and the final payment (in cash, exact amount), we will hand you the keys to your suite. We are only at the property at the agreed times. If you will be arriving later than intended, please call and let us know.
Departure
There is no formal checkout on departure. You can leave the suites at any time before 12 pm. Please put the key in the lock outside the door.
Breakfast
We do not offer breakfast. Each suite has its own kitchen where you can bring and prepare your own food. Alternatively, you can enjoy a rich breakfast buffet in our neighboring hotel "Hotel am Stadtpark" for only 8.90 € per person (from 8 am to 10 am mon-sun).
Contact
For bookings and general questions: Julia Phone: +49 160 765 6767  Email: This email address is being protected from spambots. You need JavaScript enabled to view it.
For coaching/workshops/seminars and questions about the optional extras: Anna Phone: +49 151 16940046 Email: This email address is being protected from spambots. You need JavaScript enabled to view it.
Privacy
We will only contact you via email. You will not receive any post form us.
Reservation
When you make a booking via our website, the dates will be held for you automatically for up to one week. If we have not received a deposit or a message from you within the week, the reservation will be cancelled.
Deposit:
40% of the total amount is due on booking and must be received within 1 week after making a reservation:
Account holder: M.Herms; IBAN: DE72100900007088611009; BIC: BEVODEBB; Subject (example): 3/11/2019, Dark Suite
If we do not receive the deposit in time, the reservation will be automatically cancelled. The rest is payable in cash on arrival.
Cancellation
Cancellations are subject to a fee:
30 days before arrival:        €10 cancellation fee
29 to 14 days before arrival:   50% of the deposit
13 to 4 days before arrival:    100% of the deposit
3 to 0 days before arrival:       75% of the total price
Changing your booking
30 days before arrival: free of charge
29 days before arrival: Bookings cannot be changed
Number of guests
For overnight stays we recommend a maximum of three guests (€25 extra per night). If desired, there is also room for up to 4 people. There is a inflatable bed available in the playroom of each suite. Extra bed linen and towels are provided. You can also invite guests to join you for a few hours which costs €15 per person. You must inform us of any additional guests. Since we place great importance on discretion at the Gutshof, we do ensure that uninvited guests do not enter the grounds.
Optional extras:
Please note that many optional extras are only available once. As we also take bookings by telephone and the website, double bookings may occasionally occur. We have eight different latex masks available. You can choose from the masks available when you arrive. If you would like to reserve one or two specific masks, we advise that you specify this at the time of booking so that we can reserve them for you.  Browse our selection of masks.