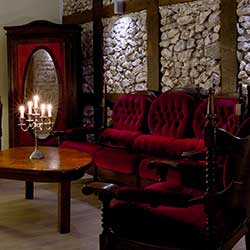 Contact
For bookings and general questions: Anna Phone: +49 160 765 6767 Email: This email address is being protected from spambots. You need JavaScript enabled to view it.
For coaching/workshops/seminars and questions about the optional extras: Anna Phone: +49 151 16940046 Email: This email address is being protected from spambots. You need JavaScript enabled to view it.
Privacy
We will only contact you via email. You will not receive any post form us.
Reservation
When you make a booking via our website, the dates will be held for you automatically for up to one week. If we have not received a deposit or a message from you within the week, the reservation will be cancelled.
Deposit for the Latex Suite and/or additional latex equipment
Please understand that we require a cash security deposit of €200 (or a copy of your passport/identity card) if you have booked the Latex Suite or any optional latex equipment. We will refund this deposit on your departure subject to the undamaged condition of all items.
Deposit:
40% of the total amount is due on booking and must be received within 1 week after making a reservation:
Account holder: M.Herms; IBAN: DE72100900007088611009; BIC: BEVODEBB; Subject (example): 3/11/2017, Dark Suite
If we do not receive the deposit in time, the reservation will be automatically cancelled. The rest is payable in cash on arrival.
Cancellation
Cancellations are subject to a fee:
30 days before arrival: €10 cancellation fee
29 to 14 days before arrival: 50% of the deposit
13 to 4 days before arrival: 100% of the deposit
3 to 0 days before arrival: 75% of the total price
Changing your booking
30 days before arrival: free of charge
29 days before arrival: Bookings cannot be changed
Booking
Booking system
After making a booking, you will receive a booking confirmation immediately with details on how to pay the deposit.
If you pay your deposit via PayPal, the date will be reserved for you automatically
The booking system accepts bookings up to three days before arrival.
Optional extras can be reserved during the booking process


Please note that most of the optional extras are only available once (see optional extras below
DAs we also take bookings by telephone and the website, double bookings may occasionally occur

If this happens, we will inform you within three days. You can then either choose to change your booking free of charge or cancel your booking
Contact form/email and phone
For individual arrangements such as: Hourly reservations, earlier arrival, seminars, optional extras, multiple suites, groups/events, vouchers, etc.
Arrival/keys
Please park in front of the building and we will meet you in the parking area. (Please do not ring at the main entrance. This is exclusively the entrance to our Romantic Suite). After a brief tour and the final payment (in cash, exact amount), we will hand you the keys to your suite. We are only at the property at the agreed times. If you will be arriving later than intended, please call and let us know.
Departure
There is no formal checkout on departure (apart from the Latex Suite). You can leave the suites at any time before 12 pm. Please put the key in the lock outside the door.
Breakfast
We do not offer breakfast. Each suite has its own kitchen where you can bring and prepare your own food. Supermarkets and restaurants serving breakfasts, for example "Felix" are just five minutes away by car. The following refreshments are included in the suite rate: Nespresso machine with 2 capsules, coffee, tea and a bottle of water. Overnight guests will receive a bottle of sparkling wine
Number of guests
For overnight stays we recommend a maximum of three guests (€25 extra per night). If desired, there is also room for up to 4 people. There is a inflatable bed available in the playroom of each suite. Extra bed linen and towels are provided. You can also invite guests to join you for a few hours which costs €15 per person. You must inform us of any additional guests. Since we place great importance on discretion at the Gutshof, we do ensure that uninvited guests do not enter the grounds.
Optional extras:
Please note that many optional extras are only available once. As we also take bookings by telephone and the website, double bookings may occasionally occur.

We have eight different latex masks available. You can choose from the masks available when you arrive. If you would like to reserve one or two specific masks, we advise that you specify this at the time of booking so that we can reserve them for you. Browse our selection of masks.